You are visitor number: 1027
This Counter Installed: 1 August 2021
Click on the tab to the right to hear full-length, free-streaming songs by DrmJ...to listen to, for FREE...Purchase of Albums and/or Singles is Optional.
I've installed 2 more control knobs, so each pickup should have a volume knob and a tone knob of its own...all pots bournes 500k audio taper, probably.010 & .015 caps.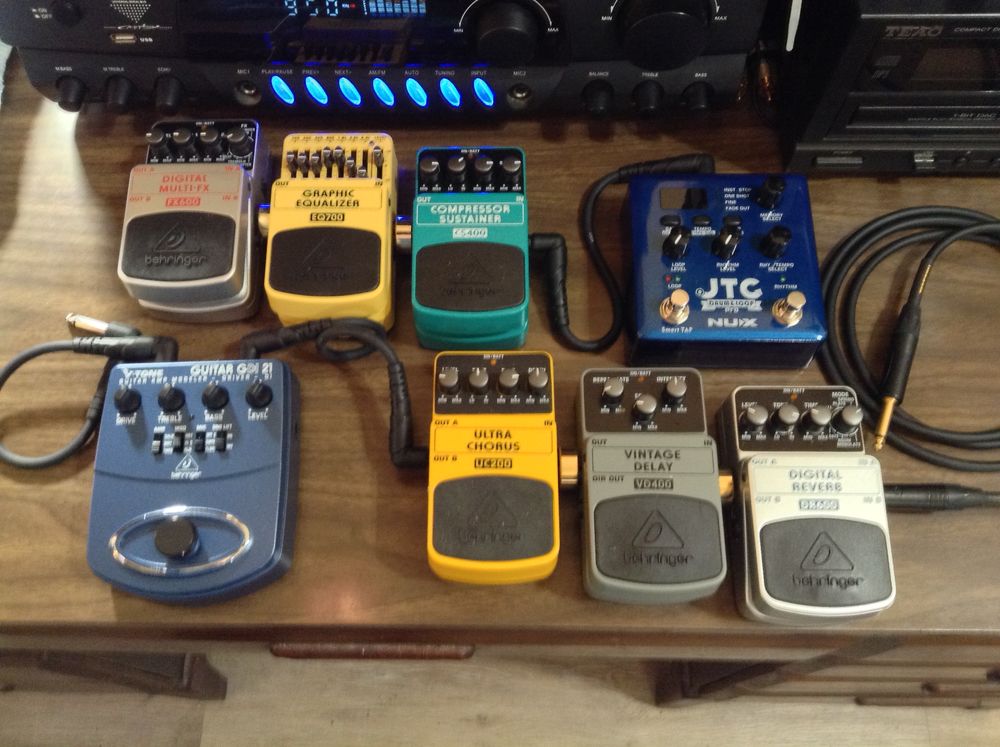 THIS IS A DESCRIPTION OF THE IMAGE FOLLOWING THIS TEXT...
HOUSED INSIDE OF THIS DESK DRAWER, THE CABLE ON THE RIGHT IS CONNECTED TO THE NUX DRUM&LOOP...THE OTHER OF THIS CABLE END GOES TO A GUITAR. THESE UNITS, IN SERIES, ARE ONE SUPPLY LINE. THE CABLE ON THE LEFT CONNECTS TO A MULTI-TRACK RECORDER. THERE'S A HOLE DRILLED IN THE BACK OF THE DRAWER, ALLOWING THE CORD FROM A SINGLE, 9VOLT A/C ADAPTER TO PASS THROUGH. ONE 9V A/C ADAPTER POWERS ALL OF THESE INTERCONNECTED UNITS USING  CABLE ADAPTERS. OPEN THE DRAWER...RECORD. FINISH RECORDING...CLOSE THE DRAWER. 
Front is completed...work to do on inside wiring
Epiphone "Wildkat" & SG VE... both mega-modified by drmj
At Broadjam, Signal 30 gave Drmj 5 ***** for my song, "all along it was you"
1964 winston drum set...cheap, from sears. Looks like this set yellowed with age, as mine was white pearl, and i doubt they came in any other finish. my first drum set!!!...sounded like shit.
DrmJ in the "other" category...
Epiphone SG VE Undergoing major, upgrade modifications...again
These CDE .047 Orange Drop capacitors could be used with these 1m potentiometers...however, .015 Orange Drop Capacitors and 500k pots will probably be used. they look the same.
New "Vintage" Cloth-Covered 22 Gauge Wire; Pickups Information...see below....
New pickups & humbucker rings installed...the pickups cost almost as much as the list price on this guitar when I bought it
Epiphone Les Paul Special II Electric Guitar
Perhaps, pondering intonation?
Click Below for "Guitars, Gear & Gizmos" ...a Drmj Youtube channel
Martin D-X2E 12-String Acoustic/Electric Guitar
click below for "Music of the Mid-1960s"...a DrmJ youtube channel
strings through -or- over saddle bridge...over creates a more shallow "break angle", resulting in more sustain, and increased bottom end...and creates a more slinky, loose feel.
Overdrive & Compression fx
Epiphone SG VE Broken Headstock (before & After)
Restoring Damaged Guitars might prove a worthwhile business endeavor
If you want a guitar to perform at its best...you can pay someone to do it...or...you can do it yourself
-FOR SALE- Epiphone SG Special (Modified by DrmJ): Added 2 Humbuckers from an Ibanez 12-string AS7312, instaleed 1m Bourns Pots, installed .047 Caps, installed TUSQ Nut, new tuners, tremelo
Lots of Guitar Chord information here...
A selection of publications where David R Moenich has been published within feature articles he has written...
DrmJ is on iTunes/Search: DrmJ
DrmJ is on Soundcloud/Search: DrmJ
DrmJ is on AppleMusic/Search:DrmJ
DrmJ is on Amazon Music/Search: DrmJ